Dentures & Partial Dentures
A denture is a removable dental appliance replacement for missing teeth and surrounding tissue. They are made to closely resemble your natural teeth and may even enhance your smile.
There are two types of dentures - complete and partial dentures. Complete dentures are used when all of the teeth are missing, while partial dentures are used when some natural teeth remain. A Partial denture not only fills in the spaces created by missing teeth, it prevents other teeth from shifting.
A Complete denture may be either "conventional" or "immediate." A conventional type is made after the teeth have been removed and the gum tissue has healed, usually taking 4 to 6 weeks. During this time the patient will go without teeth. Immediate dentures are made in advance and immediately placed after the teeth are removed, thus preventing the patient from having to be without teeth during the healing process. Once the tissues shrink and heal, adjustments will have to be made.
Dentures are very durable appliances and will last many years, but may have to be remade, repaired, or readjusted due to normal wear.
Reasons for dentures:
Complete Denture - Loss of all teeth in an arch.
Partial Denture - Loss of several teeth in an arch.
Enhancing smile and facial tissues.
Improving chewing, speech, and digestion.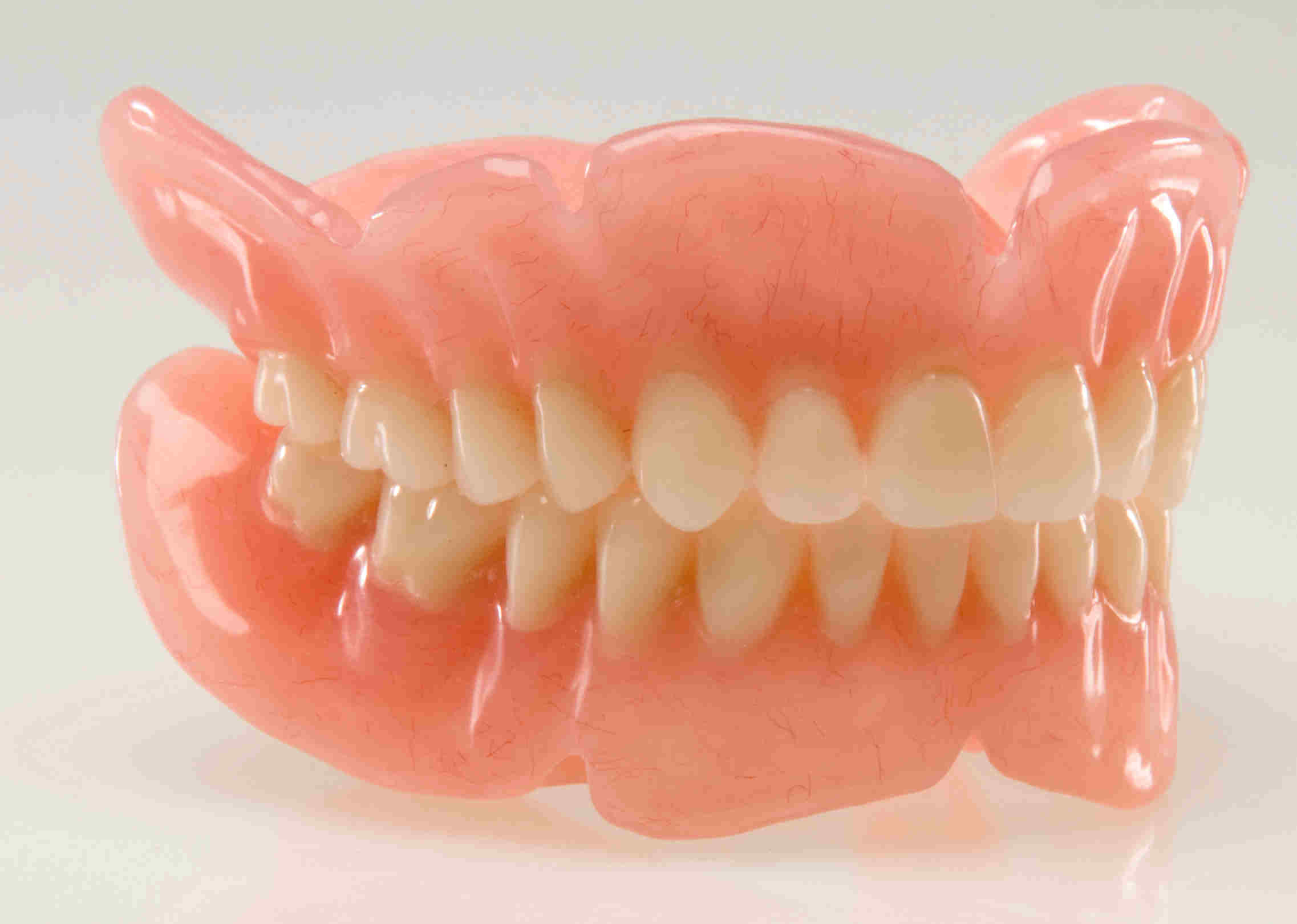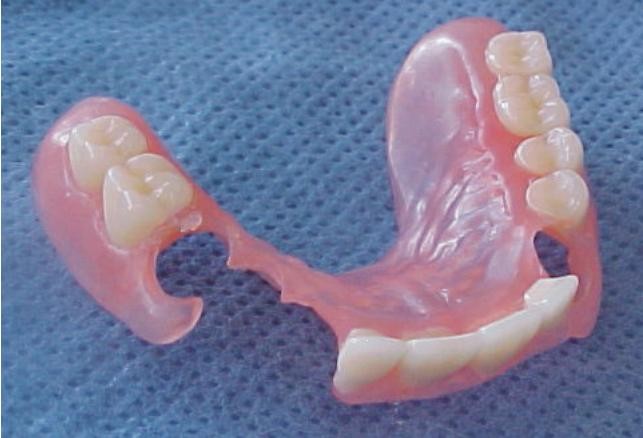 What does getting dentures involve?
The process of getting dentures requires several appointments, usually over several weeks. Highly accurate impressions (molds) and measurements are taken and used to create your custom denture. Several "try-in" appointments may be necessary to ensure proper shape, color, and fit. At the final appointment, your dentist will precisely adjust and place the completed denture, ensuring a natural and comfortable fit.
It is normal to experience increased saliva flow, some soreness, and possible speech and chewing difficulty, however this will subside as your muscles and tissues get used to the new dentures.
You will be given care instructions for your new dentures. Proper cleaning of your new dental appliance, good oral hygiene, and regular dental visits will aid in the life of your new dentures.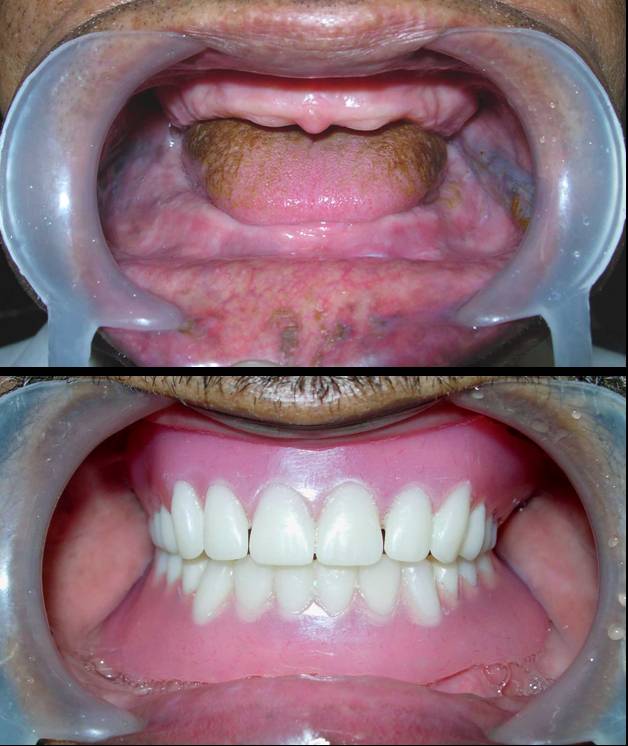 Crowns (Caps)
A crown (or cap) is a covering that encases the entire tooth surface restoring it to its original shape and size. A crown protects and strengthens tooth structure that cannot be restored with fillings or other types of restorations.
Although there are several types of crowns, porcelain (tooth colored crown) are the most popular. They are highly durable and will last many years, but like most dental restorations, they may eventually need to be replaced. Porcelain crowns are made to match the shape, size, and color or your teeth giving you a natural, long-lasting beautiful smile.
Reasons for crowns :
Broken or fractured teeth.
Cosmetic enhancement.
Decayed teeth.
Fractured fillings..
Large fillings.
Tooth has a root canal.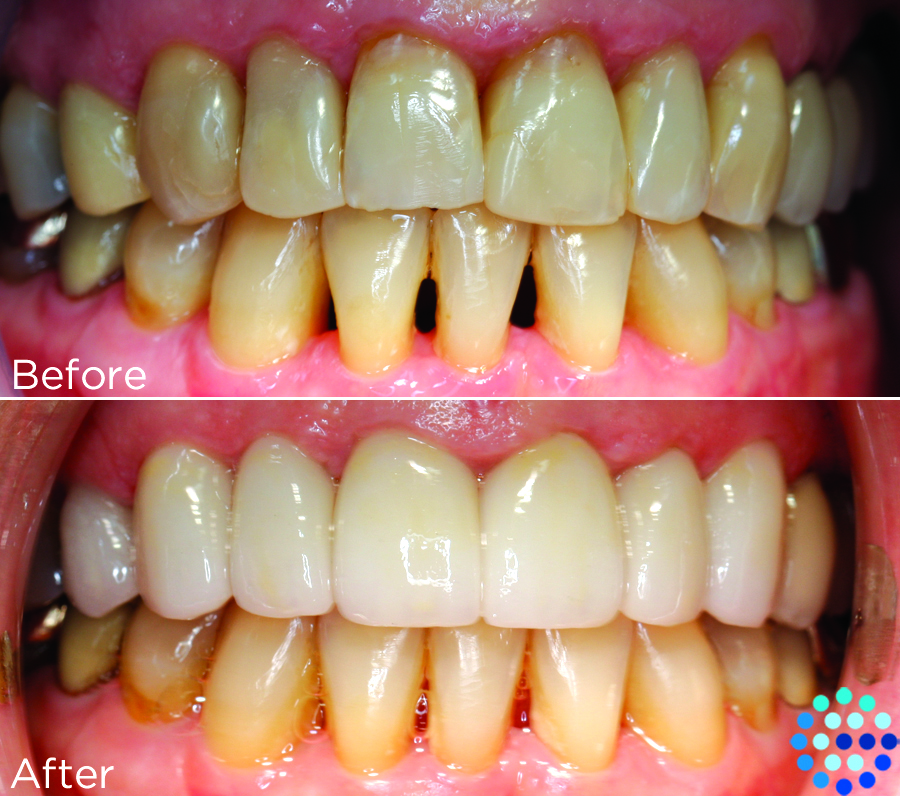 What does getting a crown involve?
While the tooth is numb, the dentist will prepare the tooth by removing any decay and shaping the surface to properly fit the crown.
Your new crown will be carefully bonded to ensure the spacing and bite are accurate.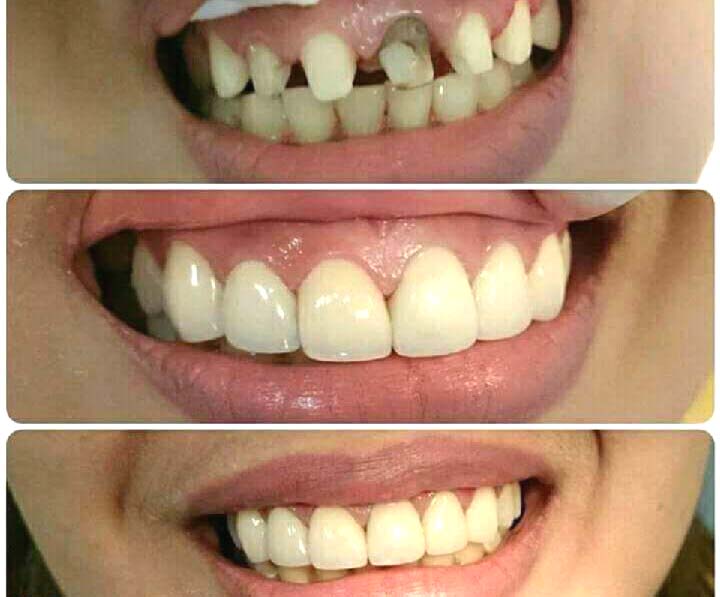 Dental Implants
Dental implants are a great way to replace missing teeth and also provide a fixed solution to having removable partial or complete dentures. Implants provide excellent support and stability for these dental appliances.
Dental implants are artificial roots and teeth (usually titanium) that are surgically placed into the upper or lower jaw bone by a dentist or Periodontist - a specialist of the gums and supporting bone. The teeth attached to implants are very natural looking and often enhance or restore a patient's smile!
Dental implants are very strong, stable, and durable and will last many years, but on occasion, they will have to be re-tightened or replaced due to normal wear.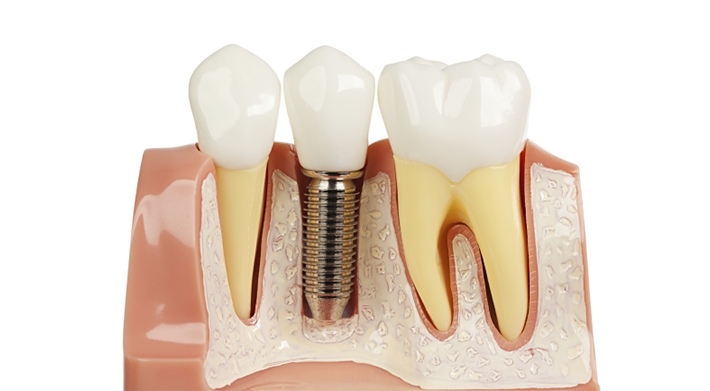 Reasons for dental implants:
Replace one or more missing teeth without affecting adjacent teeth.
Resolve joint pain or bite problems caused by teeth shifting into missing tooth space.
Restore a patient's confident smile.
Restore a patient's confident smile.
Restore or enhance facial tissues.
Support a bridge or denture, making them more secure and comfortable.
What does getting dental implants involve?
The process of getting implants requires a number of visits over several months.
X-rays and impressions (molds) are taken of the jaw and teeth to determine bone, gum tissue, and spacing available for an implant. While the area is numb, the implant will be surgically placed into the bone and allowed to heal and integrate itself onto the bone for up to six months. Depending on the type of implant, a second surgery may be required in order to place the "post" that will hold the artificial tooth in place. With other implants the post and anchor are already attached and placed at the same time.
After several weeks of healing the artificial teeth are made and fitted to the post portion of the anchor. Because several fittings may be required, this step may take one to two months to complete. After a healing period, the artificial teeth are securely attached to the implant, providing excellent stability and comfort to the patient.
You will receive care instructions when your treatment is completed. Good oral hygiene, eating habits, and regular dental visits will aid in the life of your new implant.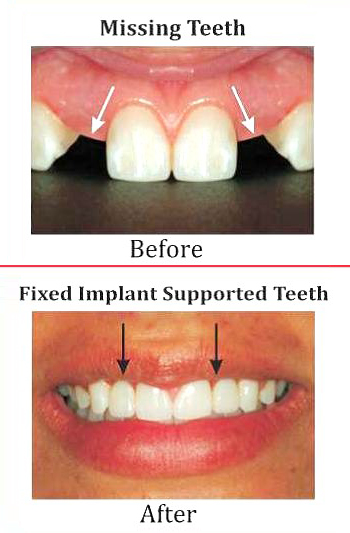 Tooth Coloured Fillings
A composite (tooth colored) filling is used to repair a tooth that is affected by decay, cracks, fractures, etc. The decayed or affected portion of the tooth will be removed and then filled with a composite filling.
There are many types of filling materials available, each with their own advantages and disadvantages. You and your dentist can discuss the best options for restoring your teeth. Composite fillings, are the most widely used today. Because composite fillings are tooth colored, they can be closely matched to the color of existing teeth, and are more aesthetically suited for use in front teeth or the more visible areas of the teeth.
As with most dental restorations, composite fillings are not permanent and may someday have to be replaced. They are very durable, and will last many years, giving you a long lasting, beautiful smile.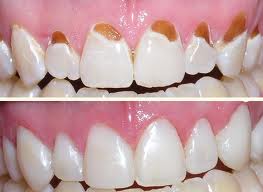 Reasons for composite fillings:
Chipped teeth.
Closing space between two teeth.
Cracked or broken teeth.
Decayed teeth.
Worn teeth.
How are composite fillings placed?
Composite fillings are usually placed in one appointment. While the tooth is numb, your dentist will remove decay as necessary. The space will then be thoroughly cleaned and carefully prepared before the new filling is placed. If the decay was near the nerve of the tooth, a special medication will be applied for added protection. The composite filling will then be precisely placed, shaped, and polished, restoring your tooth to its original shape and function.
It is normal to experience sensitivity to hot and cold when composite fillings are first placed, however this will subside shortly after your tooth acclimates to the new filling.
You will be given care instructions at the conclusion of your treatment. Good oral hygiene practices, eating habits, and regular dental visits will aid in the life of your new fillings.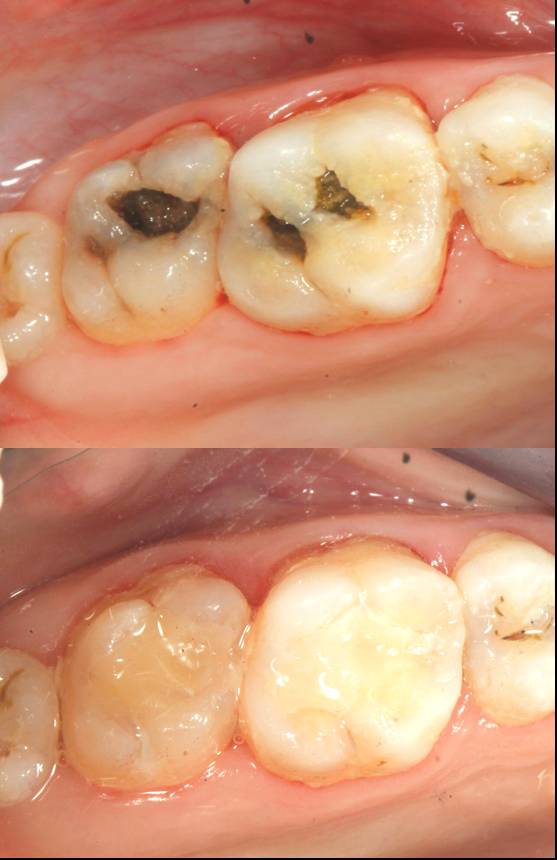 Dental Laminates And Veneers
Veneers are very thin pieces of durable, tooth shaped porcelain that are custom made (for shape and color) by a professional dental laboratory. They are bonded onto the front of teeth to create a beautiful and attractive smile.
Veneers can completely reshape your teeth and smile. They can often be alternatives to crowns and the ideal solution in treating many dental conditions.
As with most dental restorations, veneers are not permanent and may someday need replacement. They are very durable and will last many years, giving you a beautiful long lasting smile.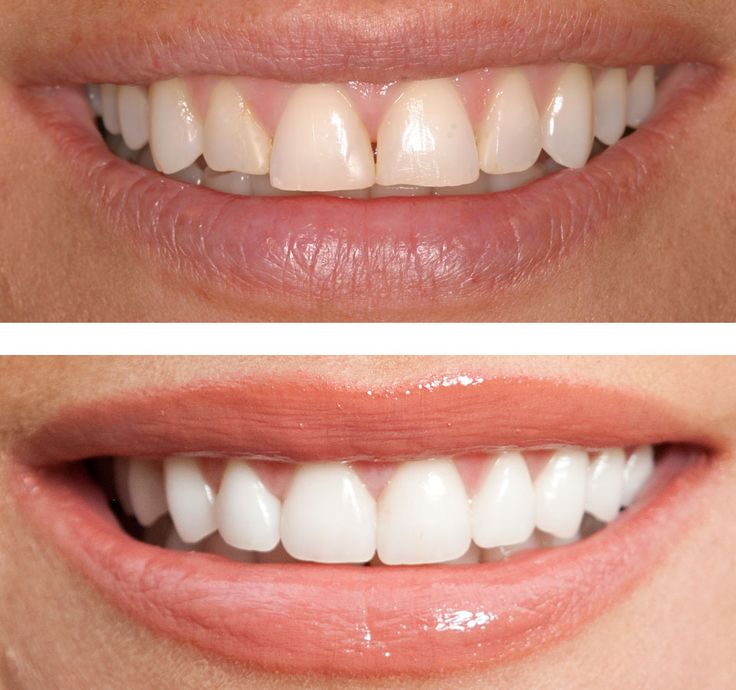 Reasons for porcelain veneers:
Cosmetically, to create a uniform, white, beautiful smile.
Crooked teeth.
Misshapen teeth.
Severely discolored or stained teeth.
Teeth that are too small or large.
Unwanted or uneven spaces.
Worn or chipped teeth.
What does getting porcelain veneers involve?
Getting veneers usually requires two visits to complete the process, with little or no anesthesia required during the procedure. The teeth are prepared by lightly buffing and shaping the surface to allow for the thickness of the veneer. A mold or impression of the teeth is taken and a shade (color) will then be chosen by you and the dentist.
On the second visit the teeth will be cleansed with special liquids to achieve a durable bond. Bonding cement is then placed between the tooth and veneer and a special light beam is used to harden and set the bond.
You will receive care instructions for veneers. Proper brushing, flossing and regular dental visits will aid in the life of your new veneers.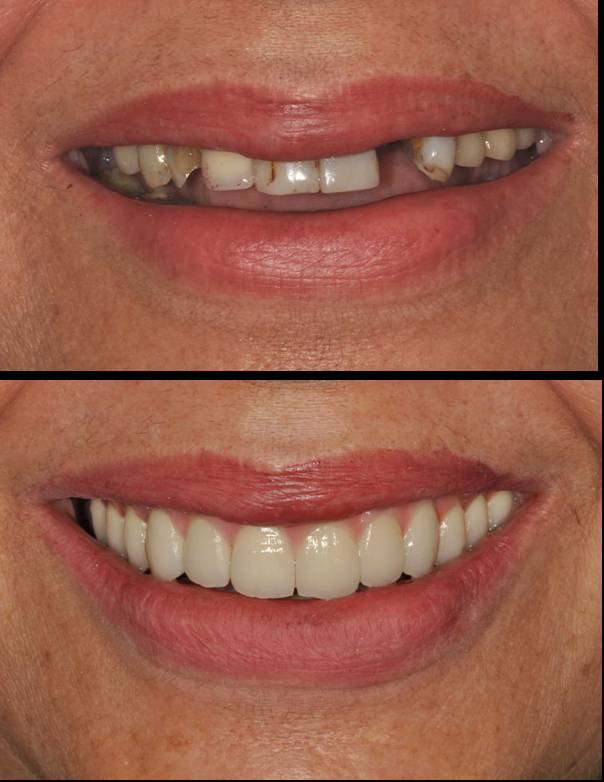 Single Visit Root Canal Treatment
Root canal therapy is needed when the nerve of a tooth is affected by decay or infection. In order to save the tooth, the pulp (the living tissue inside the tooth), nerves, bacteria, and any decay are removed and the resulting space is filled with special, medicated, dental materials, which restore the tooth to its full function.
Having a root canal done on a tooth is the treatment of choice to save a tooth that otherwise would die and have to be removed. Many patients believe that removing a tooth that has problems is the solution, but what is not realized is that extracting (pulling) a tooth will ultimately be more costly and cause significant problems for adjacent teeth.
Root canal treatment is highly successful and usually lasts a lifetime, although on occasion, a tooth will have to be retreated due to new infections.
Signs and symptoms for possible root canal therapy:
An abscess (or pimple) on the gums.
Sensitivity to hot and cold.
Severe toothache pain.
Sometimes no symptoms are present.
Swelling and/or tenderness.
Reasons for root canal therapy:
Decay has reached the tooth pulp (the living tissue inside the tooth).
Infection or abscess have developed inside the tooth or at the root tip.
Injury or trauma to the tooth.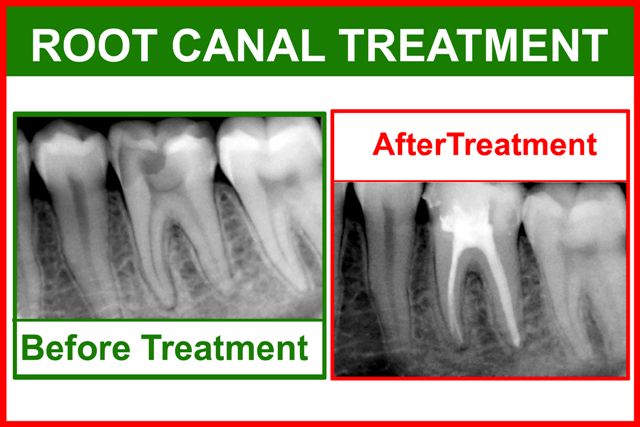 What does root canal therapy involve?
A root canal procedure requires one or more appointments and can be performed by a dentist or endodontist (a root canal specialist).
While the tooth is numb, a rubber dam (a sheet of rubber) will be placed around the tooth to keep it dry and free of saliva. An access opening is made on top of the tooth and a series of root canal files are placed into the opening, one at a time, removing the pulp, nerve tissue, and bacteria. If tooth decay is present, it will also be removed with special dental instruments.
Once the tooth is thoroughly cleaned, it will be sealed with either a permanent filling or, if additional appointments are needed, a temporary filling will be placed.
At the next appointment, usually a week later, the roots and the inside cavity of the tooth will be filled and sealed with special dental materials. A filling will be placed to cover the opening on top of the tooth. In addition, all teeth that have root canal treatment should have a crown (cap) placed. This will protect the tooth and prevent it from breaking, and restore it to its full function.
After treatment, your tooth may still be sensitive, but this will subside as the inflammation diminishes and the tooth has healed.
You will be given care instructions after each appointment. Good oral hygiene practices and regular dental visits will aid in the life of your root canal treatment.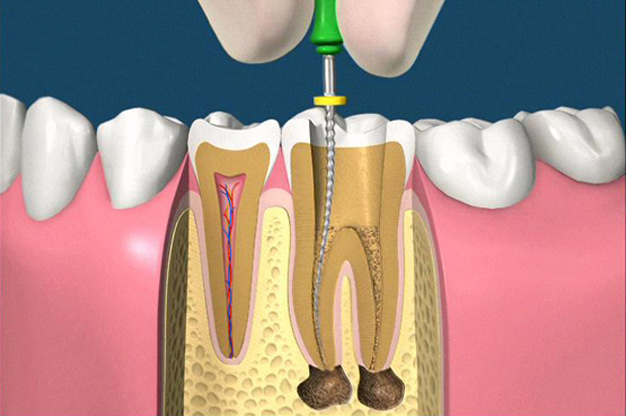 Braces Treatment
Orthodontic braces were historically associated with teenagers. Today, an increasing number of adults are choosing to wear braces to straighten their teeth and correct malocclusions (bad bites). In fact, it is now estimated that almost one third of all current orthodontic patients are adults.
Orthodontic braces are predictable, versatile and incredibly successful at realigning the teeth. Braces work in the same way regardless of the age of the patient, but the treatment time is greatly reduced in patients who are still experiencing jaw growth and have not been affected by gum disease. In short, an adult can experience the same beautiful end results as a teenager, but treatment often takes longer.
Can adults benefit from orthodontic braces?
Absolutely! Crooked or misaligned teeth look unsightly, which in many cases leads to poor self esteem and a lack of self confidence. Aside from poor aesthetics, improperly aligned teeth can also cause difficulties biting, chewing and articulating clearly. Generally speaking, orthodontists agree that straight teeth tend to be healthier teeth.
Straight teeth offer a multitude of health and dental benefits including:
Reduction in general tooth decay
Decreased likelihood of developing periodontal disease
Decreased likelihood of tooth injury
Reduction in digestive disorders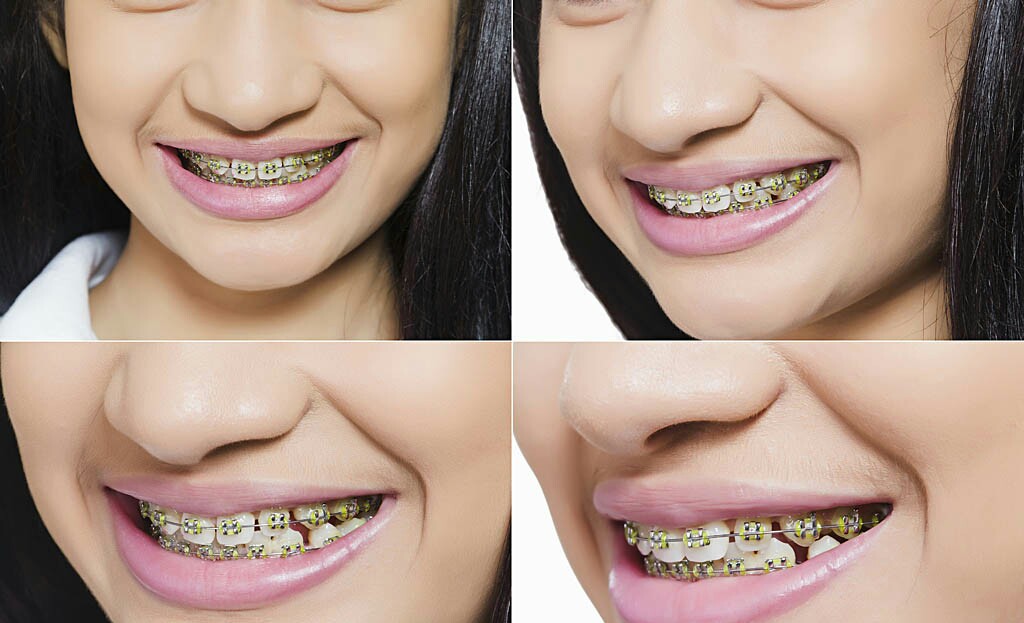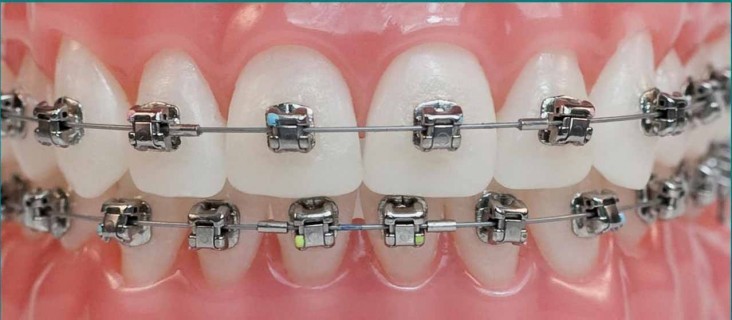 Fortunately, orthodontic braces have been adapted and modified to make them more convenient for adults. There are now a wide range of fixed and removable orthodontic devices available, depending on the precise classification of the malocclusion.
The most common types of malocclusion are underbite (lower teeth protrude further than upper teeth), overbite (upper teeth protrude further than lower teeth) and overcrowding, where there is insufficient space on the arches to accommodate the full complement of adult teeth.
Prior to recommending specific orthodontic treatment, the orthodontist will recommend treatment of any pre-existing dental conditions such as gum disease, excess plaque and tooth decay. Orthodontic braces can greatly exacerbate any or all of these conditions.
What are the main types of orthodontic braces ?
The following are some of the most popular orthodontic braces :
Traditional braces – These braces are strong and tend not to stain the teeth. They are comprised of individual brackets which are cemented to each tooth and accompanied by an archwire which constantly asserts gentle pressure on the teeth. Traditional braces are generally metal but are also available in a clear synthetic material and "tooth colored" ceramic. The ceramic brackets are generally more comfortable than the metal alternative, but can become discolored by coffee, wine, smoking and certain foods.
Invisalign® – Invisalign aligners are favored by many adults because they are both removable and invisible to onlookers. Invisalign® aligners are clear trays, and should be worn for the recommended amount of time each day for the quickest results. Invisalign® aligners are more comfortable and less obtrusive than traditional braces, but also tend to be more costly. Not all patients are candidates for Invisalign®.
Lingual braces – These appliances are usually metal and fixed on the tongue side of the teeth, therefore not seen when a patient smiles. Lingual braces tend to be moderately expensive and in some cases, can interfere with normal speech.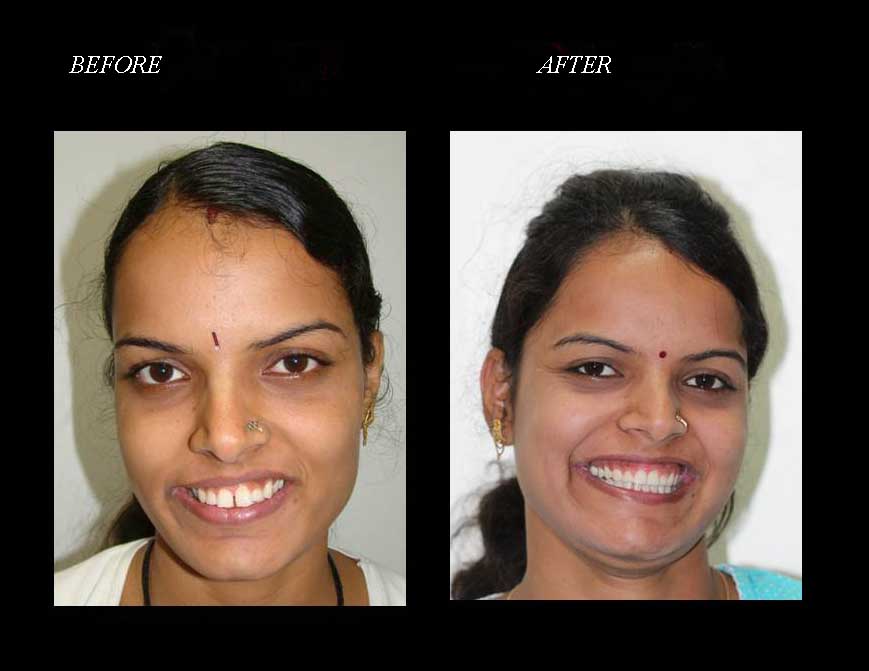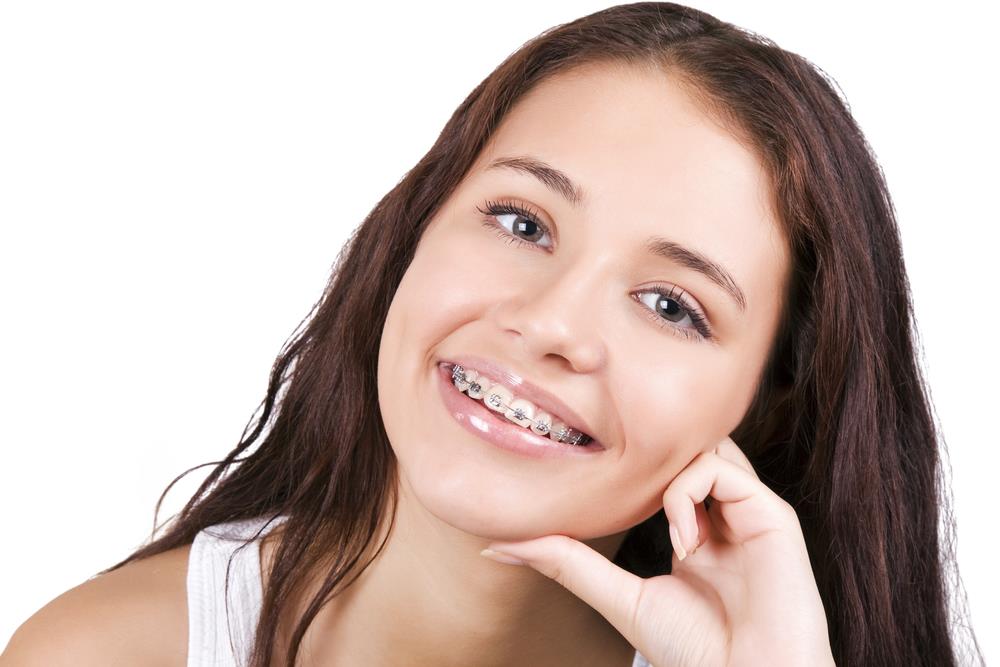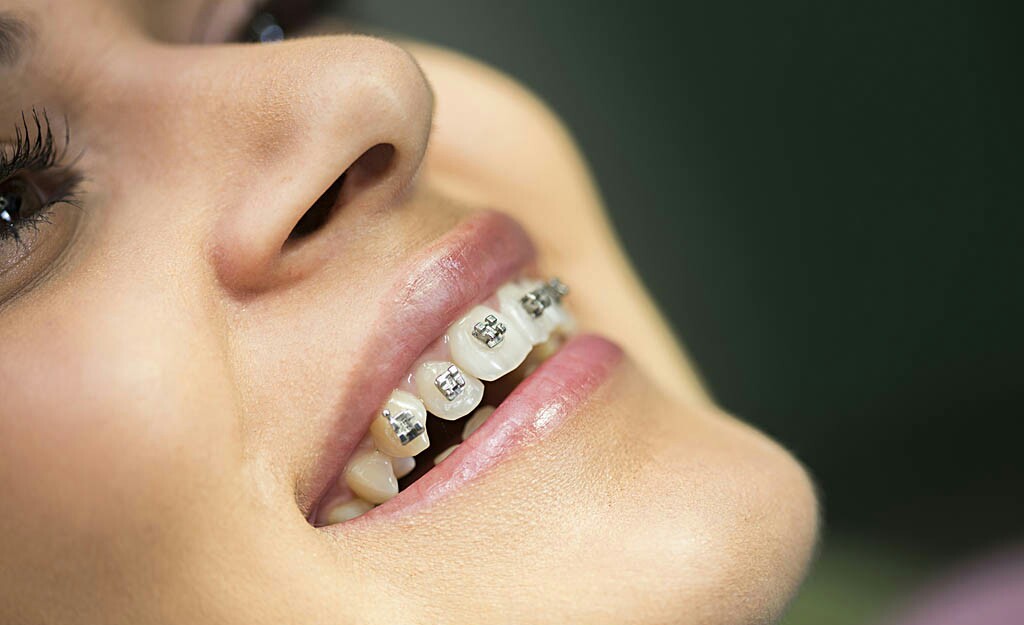 Full Mouth Rehabilitation
In short, full-mouth rehabilitation (or sometimes called reconstruction or rejuvenation) is the individual recreation of each tooth in a mouth. Full-mouth reconstruction is needed when the teeth are worn down, broken or missing, causing problems in both the bite and appearance of the mouth. Smile solution can totally rejuvenate your mouth, creating a healthy, beautiful smile in a few visits. This process is so successful that others cannot distinguish the real teeth from the restored teeth.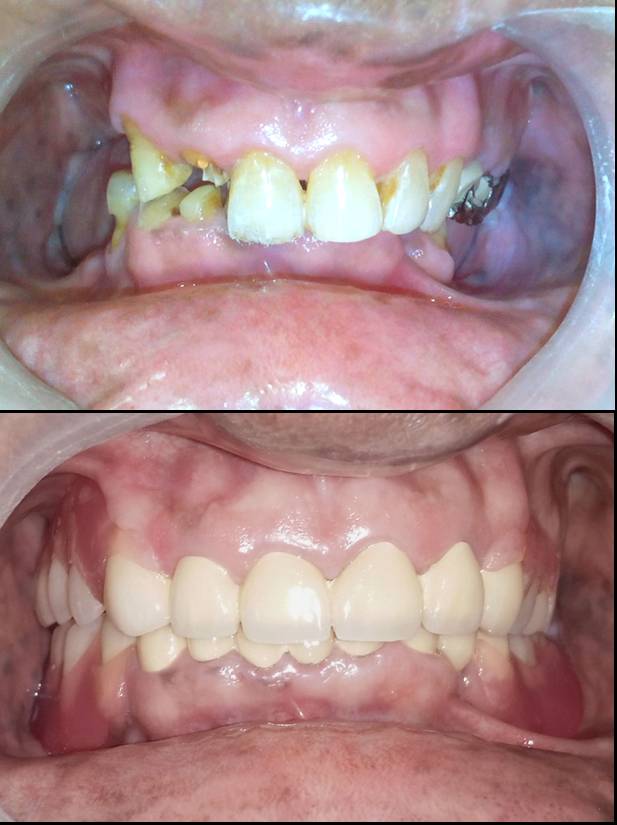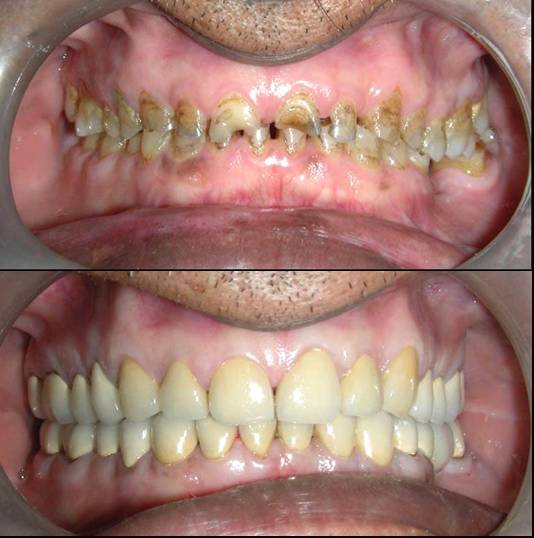 Teeth Whitening
Teeth-whitening procedures offer patients with stained, discolored, or dull teeth an opportunity to have a whiter, brighter smile. Whitening significantly reduces external surface stains affected by food and beverages. We provide an in office laser whitening system and an at-home whitening system.
Time of Teeth Whitening :
The teeth whitening system would take an 30 to 45 Minutes at the clinic. We also give home whitening for over a period of 2-3 weeks after instant whitening to give best and long lasting results.
Laser Whitening:
Laser teeth whitening is a process that can be used to increase the white, bright shine of the smile up to eight and even ten shades in as little as one hour. The treatment combines whitening gel and the use of a diode laser to create a white and bright smile that you can be proud of. The whitening process enables a whiter smile easily and effectively. Laser teeth whitening uses the combination of whitening gel which is applied to the teeth and lasers which are used to activate the components of the gel to allow oxygen to reach the teeth. It is an effective whitening tool offered in dental offices throughout the country.
Advantages of Laser Teeth Whitening:
It is effective. It can easily whiten the teeth up to ten shades in as little as one hour. There are few other teeth whitening systems that whiten the teeth so completely in such a short period of time. It can often see effects that can last up to one to three years if preventative maintenance on the teeth is maintained after the whitening treatments have been complete.
Most patients leave the procedure with whiter teeth and a brighter smile without any sensitivity to the treatment what ever. It is a safe procedure that can whiten the teeth without providing damage. Multiple treatments can be used for stubborn stains which are found on the teeth. This way, even regular smokers and coffee drinkers can see the effects of whiter teeth.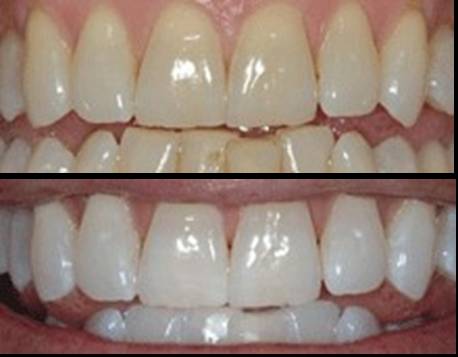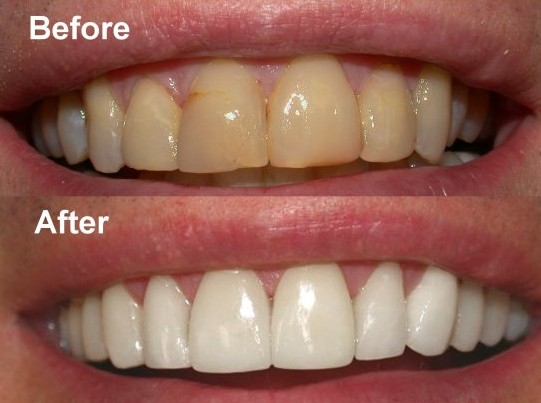 Fluoride Treatment
Fluorine, a natural element in the fluoride compound, has proven to be effective in minimizing childhood cavities and tooth decay. Fluoride is a key ingredient in many popular brands of toothpaste, oral gel, and mouthwash, and can also be found in most community water supplies. Though fluoride is an important part of any good oral care routine, overconsumption can result in a condition known as fluorosis. The pediatric dentist is able to monitor fluoride levels, and check that children are receiving the appropriate amount.
How can fluoride prevent tooth decay?
Fluoride fulfills two important dental functions. First, it helps to staunch mineral loss from tooth enamel, and second, it promotes the remineralization of tooth enamel.
When carbohydrates (sugars) are consumed, oral bacteria feed on them and produce harmful acids. These acids attack tooth enamel - especially in children who take medications or produce less saliva. Repeated acid attacks result in cavities, tooth decay, and childhood periodontal disease. Fluoride protects tooth enamel from acid attacks and reduces the risk of childhood tooth decay.
Fluoride is especially effective when used as part of a good oral hygiene regimen. Reducing the consumption of sugary foods, brushing and flossing regularly, and visiting the pediatric dentist biannually, all supplement the work of fluoride and keep young teeth healthy.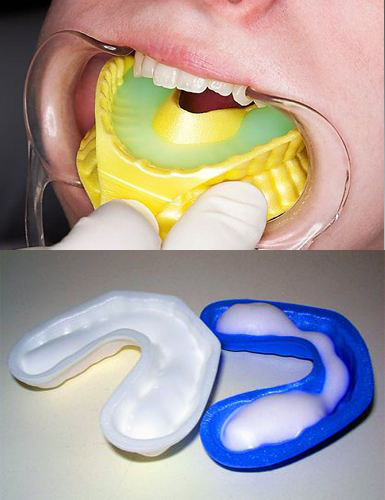 How much fluoride is enough?
Since community water supplies and toothpastes usually contain fluoride, it is essential that children do not ingest too much. For this reason, children under the age of two should use an ADA-approved, non-fluoridated brand of toothpaste. Children between the ages of two and five years old should use a pea-sized amount of ADA-approved fluoridated toothpaste on a clean toothbrush twice each day. They should be encouraged to spit out any extra fluid after brushing. This part might take time, encouragement, and practice.
The amount of fluoride children ingest between the ages of one and four years old determines whether or not fluorosis occurs later. The most common symptom of fluorosis is white specks on the permanent teeth. Children over the age of eight years old are not considered to be at-risk for fluorosis, but should still use an ADA-approved brand of toothpaste.
Does my child need fluoride supplements?
The pediatric dentist is the best person to decide whether a child needs fluoride supplements. First, the dentist will ask questions in order to determine how much fluoride the child is currently receiving, gain a general health history, and evaluate the sugar content in the child's diet. If a child is not receiving enough fluoride and is determined to be at high-risk for tooth decay, an at-home fluoride supplement may be recommended.
Topical fluoride can also be applied to the tooth enamel quickly and painlessly during a regular office visit. There are many convenient forms of topical fluoride, including foam, liquids, varnishes, and gels. Depending on the age of the child and their willingness to cooperate, topical fluoride can either be held on the teeth for several minutes in specialized trays or painted on with a brush.
If you have questions or concerns about fluoride or fluorosis, please contact your pediatric dentist.
Teeth Cleaning And Polishing
A dental prophylaxis is a cleaning procedure performed to thoroughly clean the teeth. Prophylaxis is an important dental treatment for halting the progression of periodontal disease and gingivitis.
Periodontal disease and gingivitis occur when bacteria from plaque colonize on the gingival (gum) tissue, either above or below the gum line. These bacteria colonies cause serious inflammation and irritation which in turn produce a chronic inflammatory response in the body. As a result, the body begins to systematically destroy gum and bone tissue, making the teeth shift, become unstable, or completely fall out. The pockets between the gums and teeth become deeper and house more bacteria which may travel via the bloodstream and infect other parts of the body.
Reasons for prophylaxis/teeth cleaning
Prophylaxis is an excellent procedure to help keep the oral cavity in good health and also halt the progression of gum disease.
Here are some of the benefits of prophylaxis:
Tartar removal – Tartar (calculus) and plaque buildup, both above and below the gum line, can cause serious periodontal problems if left untreated. Even using the best brushing and flossing homecare techniques, it can be impossible to remove debris, bacteria and deposits from gum pockets. The experienced eye of a dentist using specialized dental equipment is needed in order to spot and treat problems such as tartar and plaque buildup.
Aesthetics – It's hard to feel confident about a smile marred by yellowing, stained teeth. Prophylaxis can rid the teeth of unsightly stains and return the smile to its former glory.
Fresher breath – Periodontal disease is often signified by persistent bad breath (halitosis). Bad breath is generally caused by a combination of rotting food particles below the gum line, possible gangrene stemming from gum infection, and periodontal problems. The removal of plaque, calculus and bacteria noticeably improves breath and alleviates irritation.
Identification of health issues – Many health problems first present themselves to the dentist. Since prophylaxis involves a thorough examination of the entire oral cavity, the dentist is able to screen for oral cancer, evaluate the risk of periodontitis and often spot signs of medical problems like diabetes and kidney problems. Recommendations can also be provided for altering the home care regimen.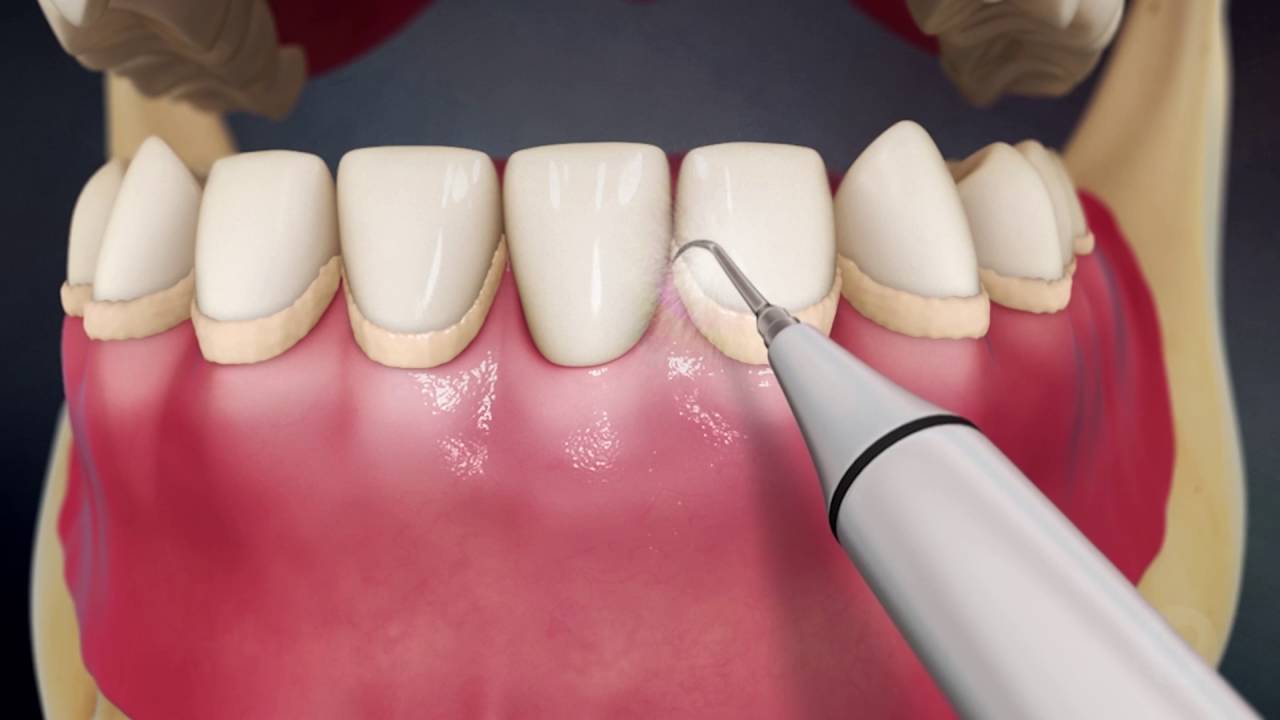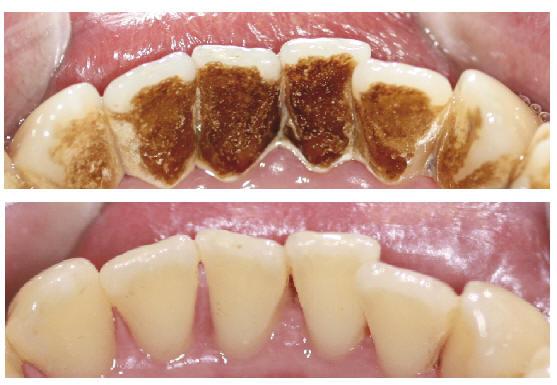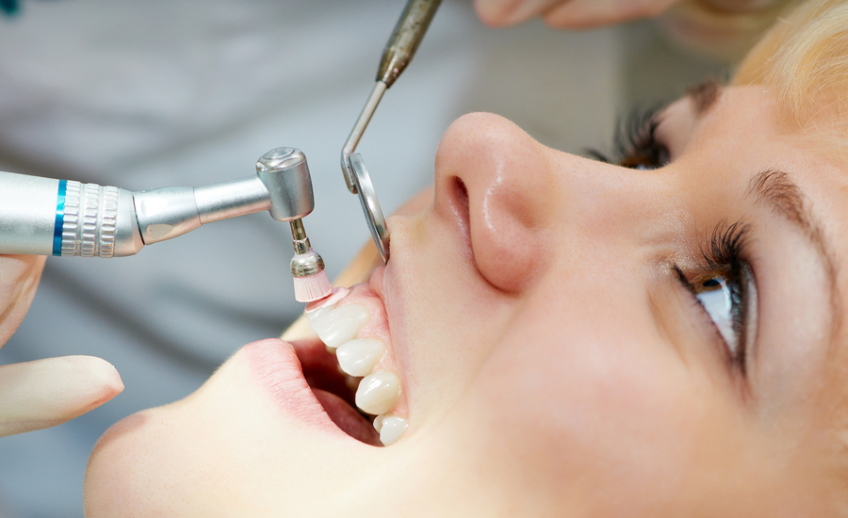 What does prophylaxis treatment involve?
Prophylaxis can either be performed in the course of a regular dental visit or, if necessary, under general anesthetic. The latter is particularly common where severe periodontal disease is suspected or has been diagnosed by the dentist. An endotracheal tube is sometimes placed in the throat to protect the lungs from harmful bacteria which will be removed from the mouth.
Prophylaxis is generally performed in several stages:
Supragingival cleaning – The dentist will thoroughly clean the area above the gum line with scaling tools to rid them of plaque and calculus.
Subgingival cleaning – This is the most important step for patients with periodontal disease because the dentist is able to remove calculus from the gum pockets and beneath the gum line.
Root planing - This is the smoothing of the tooth root by the dentist to eliminate any remaining bacteria. These bacteria are extremely dangerous to periodontitis sufferers, so eliminating them is one of the top priorities of the dentist.
Medication - Following scaling and root planing, an antibiotic or antimicrobial cream is often placed in the gum pockets. These creams promote fast and healthy healing in the pockets and help ease discomfort.
X-ray and examination – Routine X-rays can be extremely revealing when it comes to periodontal disease. X-rays show the extent of bone and gum recession, and also aid the dentist in identifying areas which may need future attention.
Prophylaxis is recommended twice annually as a preventative measure, but should be performed every 3-4 months on periodontitis sufferers. Though gum disease cannot be completely reversed, prophylaxis is one of the tools the dentist can use to effectively halt its destructive progress.
Wisdom Tooth Removal
Wisdom tooth is another name for any one of four third molars found in the permanent dentition. They erupt at the age of 17-25 years. Not all wisdom teeth need to be extracted. When a wisdom tooth erupts cleanly through the tissue without compromising the adjacent tooth, the wisdom tooth can be retained in the mouth with little concern. However, removal of the wisdom tooth is indicated if the tooth has partially erupted through the gingival tissue causing inflammation and at times infection. Considering the posterior position of an erupted wisdom tooth, these teeth are often difficult to keep clean.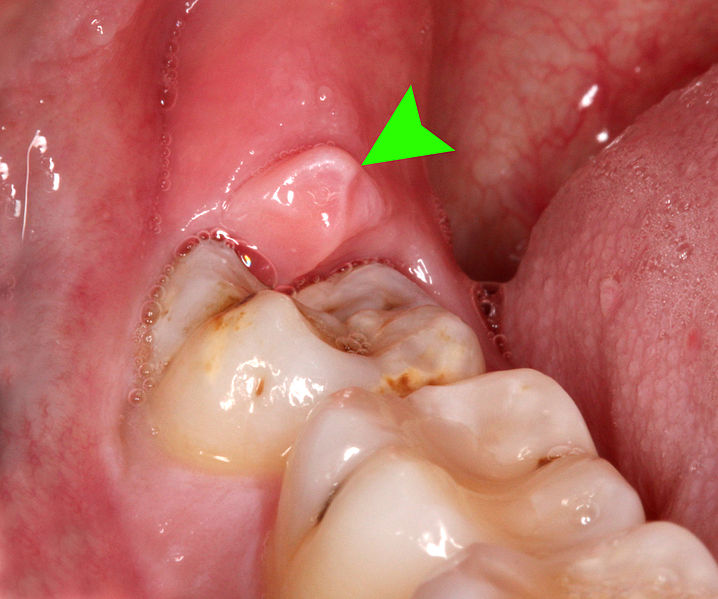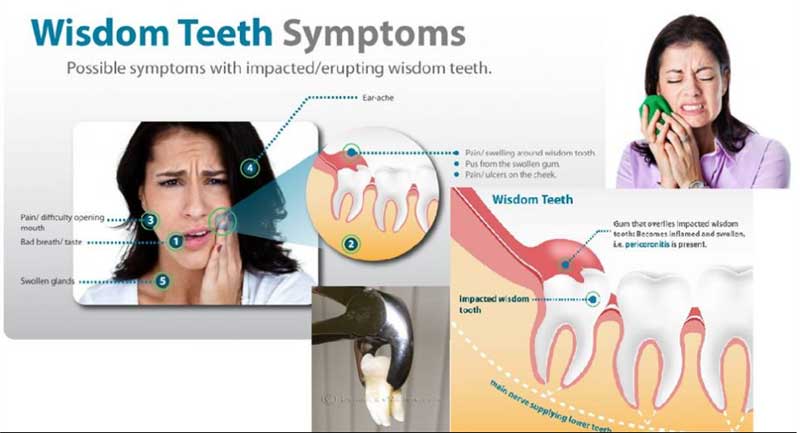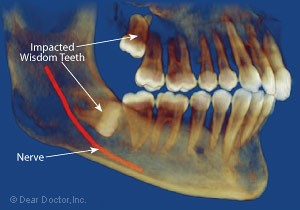 Gum Surgery
We provide Gum Surgery that shows its effect on patients within a very short period. The highly effective Gum Treatment offered by us is reliable and can be availed at low cost. Different therapies are used for effective treatment providing instant relief to the patients.
Applicable In Symptoms Of:
Bleeding gums
Red or swollen gums
Pulled away gums
Bad breathing
Loose teeth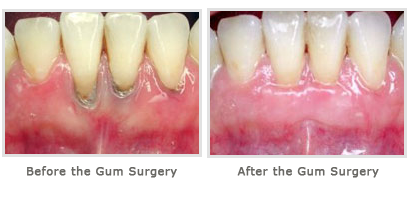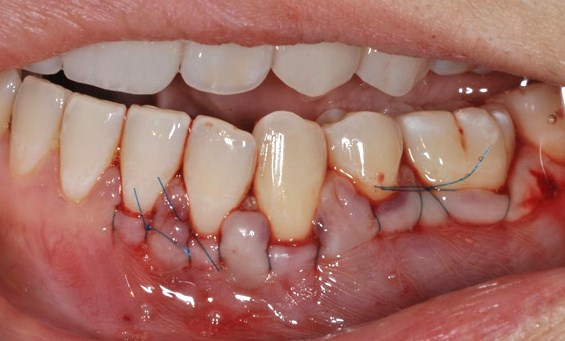 Dental X-RAY
Digital radiography (digital x-ray) is the latest technology used to take dental x-rays. This technique uses an electronic sensor (instead of x-ray film) that captures and stores the digital image on a computer. This image can be instantly viewed and enlarged helping the dentist and dental hygienist detect problems easier. Digital x-rays reduce radiation 80-90% compared to the already low exposure of traditional dental x-rays.
Dental x-rays are essential, preventative, diagnostic tools that provide valuable information not visible during a regular dental exam. Dentists and dental hygienists use this information to safely and accurately detect hidden dental abnormalities and complete an accurate treatment plan. Without x-rays, problem areas may go undetected.
Dental x-rays may reveal:
Abscesses or cysts.
Bone loss.
Cancerous and non-cancerous tumors.
Decay between the teeth.
Developmental abnormalities.
Poor tooth and root positions.
Problems inside a tooth or below the gum line
Detecting and treating dental problems at an early stage may save you time, money, unnecessary discomfort, and your teeth!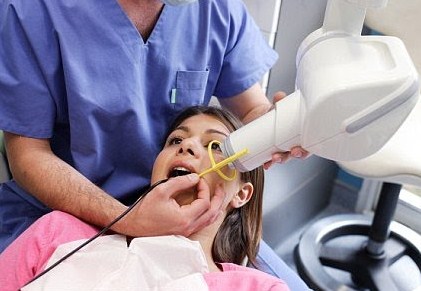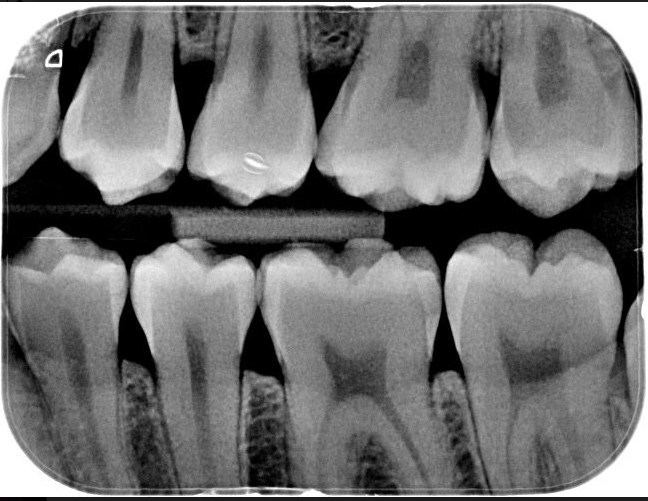 Are dental x-rays safe?
We are all exposed to natural radiation in our environment. Digital x-rays produce a significantly lower level of radiation compared to traditional dental x-rays. Not only are digital x-rays better for the health and safety of the patient, they are faster and more comfortable to take, which reduces your time in the dental office. Also, since the digital image is captured electronically, there is no need to develop the x-rays, thus eliminating the disposal of harmful waste and chemicals into the environment.
Even though digital x-rays produce a low level of radiation and are considered very safe, dentists still take necessary precautions to limit the patient's exposure to radiation. These precautions include only taking those x-rays that are necessary, and using lead apron shields to protect the body.
How often should dental x-rays be taken?
The need for dental x-rays depends on each patient's individual dental health needs. Your dentist and dental hygienist will recommend necessary x-rays based upon the review of your medical and dental history, a dental exam, signs and symptoms, your age, and risk of disease.
A full mouth series of dental x-rays is recommended for new patients. A full series is usually good for three to five years. Bite-wing x-rays (x-rays of top and bottom teeth biting together) are taken at recall (check-up) visits and are recommended once or twice a year to detect new dental problems.
Child Dentistry
Pediatric oral care has two main components: preventative care at the pediatric dentist's office and preventative care at home. Though infant and toddler caries (cavities) and tooth decay have become increasingly prevalent in recent years, a good dental strategy will eradicate the risk of both.
The goal of preventative oral care is to evaluate and preserve the health of the child's teeth. Beginning at the age of twelve months, the American Dental Association (ADA) recommends that children begin to visit the pediatric dentist for "well baby" checkups. In general, most children should continue to visit the dentist every six months, unless instructed otherwise.
How can a pediatric dentist care for my child's teeth?
The pediatric dentist examines the teeth for signs of early decay, monitors orthodontic concerns, tracks jaw and tooth development, and provides a good resource for parents. In addition, the pediatric dentist has several tools at hand to further reduce the child's risk for dental problems, such as topical fluoride and dental sealants.
During a routine visit to the dentist, the child's mouth will be fully examined, the teeth will be professionally cleaned, topical fluoride may be coated onto the teeth to protect tooth enamel, and any parental concerns can be addressed. The pediatric dentist can demonstrate good brushing and flossing techniques, advise parents on dietary issues, provide strategies for thumb sucking and pacifier cessation, and communicate with the child on his or her level..
When molars emerge (usually between the ages of two and three), the pediatric dentist may coat them with dental sealant. This sealant covers the hard-to-reach fissures on the molars, sealing out bacteria, food particles and acid. Dental sealant may last for many months or many years, depending on the oral habits of the child. Dental sealant provides an important tool in the fight against tooth decay.
How can I help at home?
Though most parents primarily think of brushing and flossing when they hear the words "oral care," good preventative care includes many more factors, such as:
Diet – Parents should provide children with a nourishing, well-balanced diet. Very sugary diets should be modified and continuous snacking should be discouraged. Oral bacteria ingest leftover sugar particles in the child's mouth after each helping of food – emitting harmful acids that erode tooth enamel, gum tissue, and bone if left unchecked. Space out snacks where possible, and provide the child with non-sugary alternatives like celery sticks, carrot sticks, and low-fat yogurt.
Oral habits – Though pacifier use and thumb sucking generally cease over time, both can cause the teeth to misalign. If the child must use a pacifier, choose an "orthodontically" correct model. This will minimize the risk of developmental problems like narrow roof arches and crowding. The pediatric dentist can suggest a strategy (or provide a dental appliance) for thumb sucking cessation.
General oral hygiene – Sometimes, parents cleanse pacifiers and teething toys by sucking them. Parents may also share eating utensils with the child. Harmful oral bacteria are transmitted from parent-to-child in these ways, increasing the risk of early cavities and tooth decay. Instead, rinse toys and pacifiers with warm water and avoid spoon-sharing wherever possible.
Sippy cup use – Sippy cups are an excellent transitional aid for the baby bottle-to-adult drinking glass period. However, sippy cups filled with milk, breast milk, soda, juice, and sweetened water cause small amounts of sugary fluid to continually swill around young teeth – meaning continuous acid attacks on tooth enamel. Sippy cup use should be terminated between the ages of twelve and fourteen months - or whenever the child has the motor capabilities to hold a drinking glass.
Brushing – Children's teeth should be brushed a minimum of two times per day using a soft bristled brush and a pea-sized amount of toothpaste. Parents should help with the brushing process until the child reaches the age of seven and is capable of reaching all areas of the mouth. Parents should always opt for ADA approved toothpaste (non-fluoridated before the age of two, and fluoridated thereafter). For babies, parents should rub the gum area with a clean cloth after each feeding.
Flossing – Cavities and tooth decay form more easily between teeth. Therefore, the child is at risk for between-teeth cavities wherever two teeth grow adjacent to each other. The pediatric dentist can help demonstrate correct head positioning during the flossing process, and suggest tips for making flossing more fun!
Fluoride – Fluoride helps prevent mineral loss and simultaneously promotes the remineralization of tooth enamel. Too much fluoride can result in fluorosis, a condition where white specks appear on the permanent teeth, and too little can result in tooth decay. It is important to get the fluoride balance correct. The pediatric dentist can evaluate how much the child is currently receiving and prescribe supplements if necessary.
If you have questions or concerns about how to care for your child's teeth, please ask your pediatric dentist.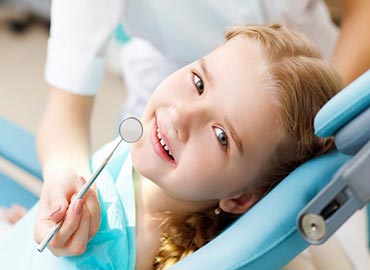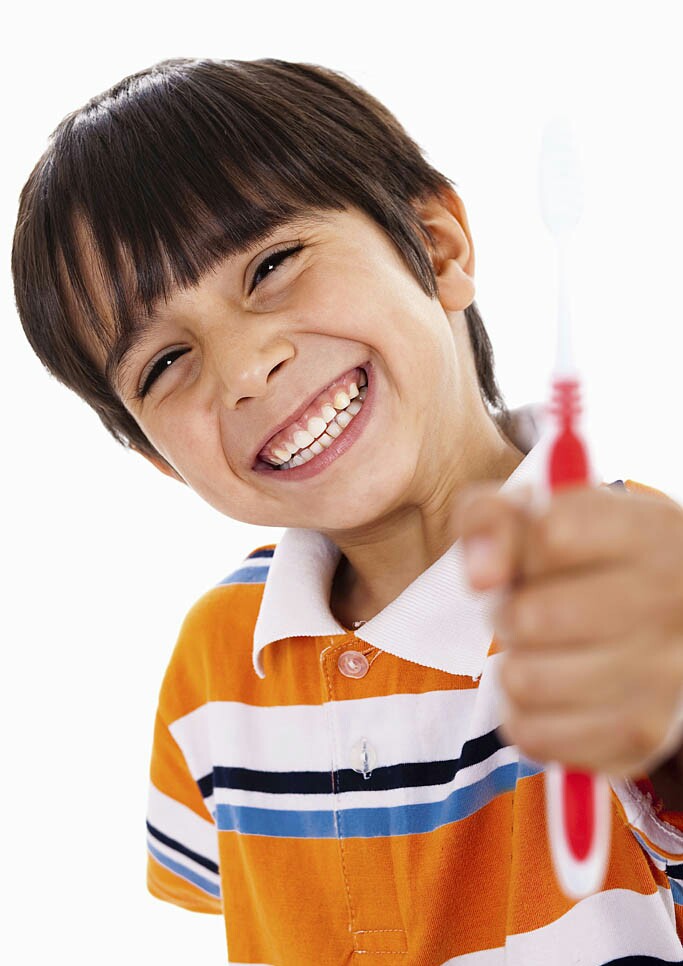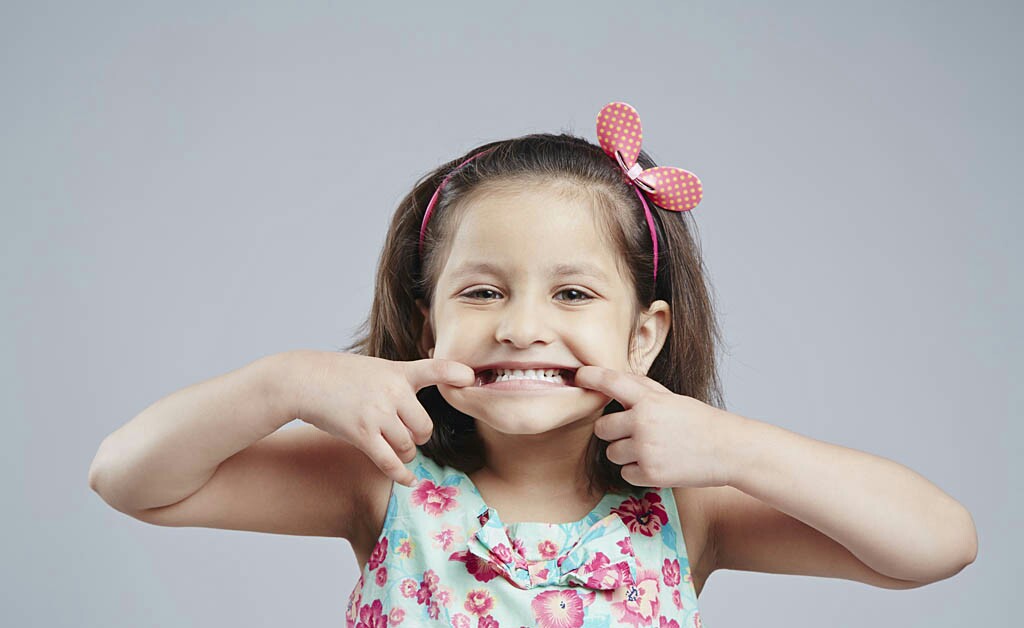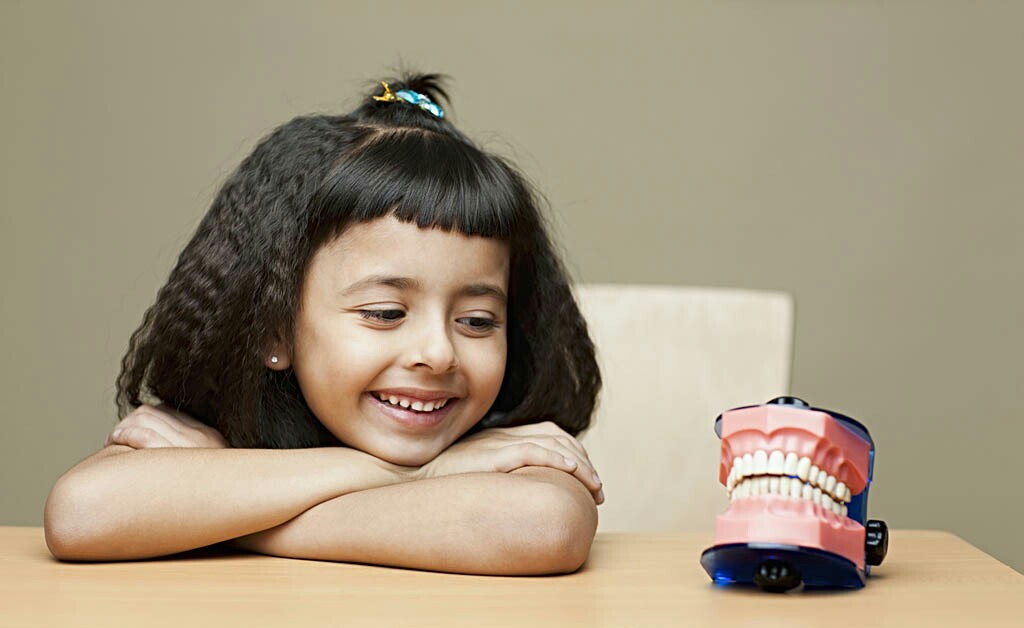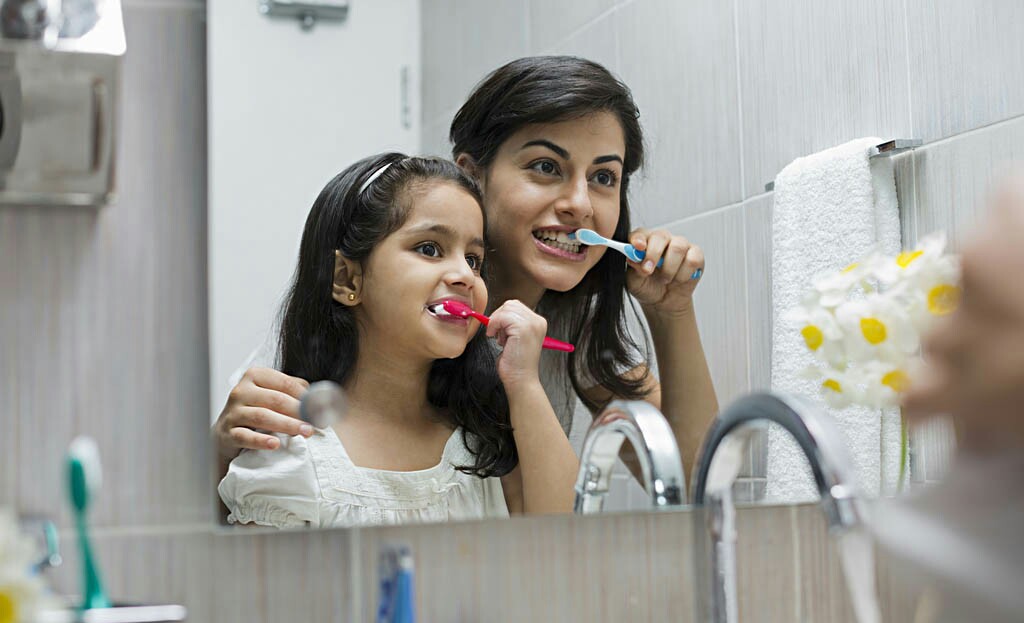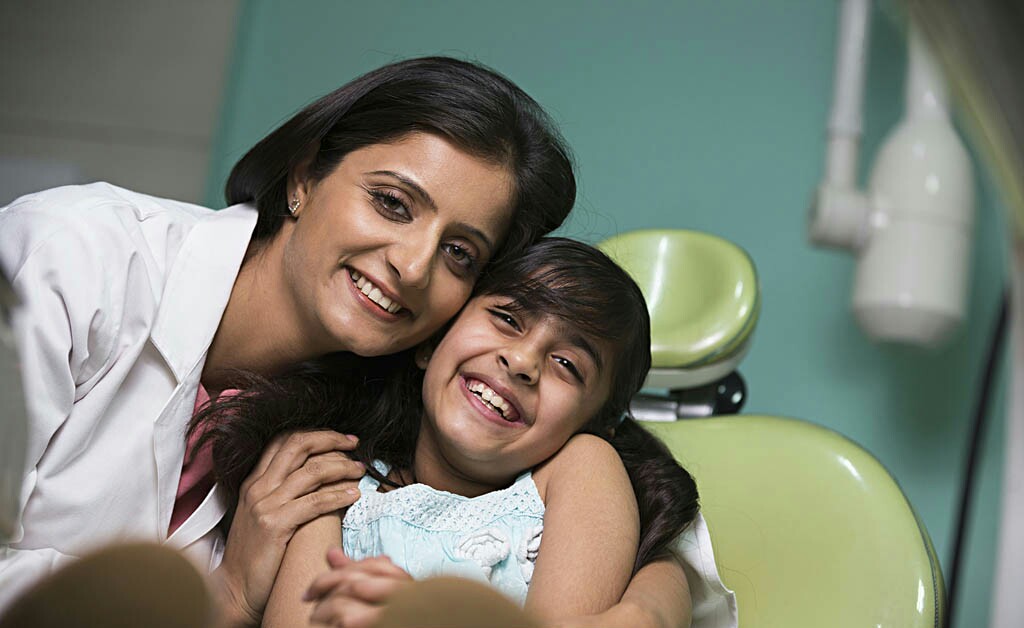 Keeping Your Teeth Healthy
Having a very busy lifestyle is definitely not an excuse to neglect your personal dental care. You don't really want to have plaque and other bacteria staying inside your mouth, right?
It takes just a few minutes a day for you to combat and prevent the spread of bacteria, plaque and cavities in your mouth. Simple tooth brushing and mouth care procedures can take your teeth a long way.
Simple Brushing Tips-Brushing just the front of your teeth won't do your teeth a lot of good. When you brush your teeth, don't just focus on your front teeth just because you think that they are the ones more exposed to the world. You also have to brush your teeth along the sides and those located at the back of your mouth. When you brush your teeth, don't be too harsh on your gums. Make sure that your brush strokes should be away from your gums, not towards. When you brush your teeth, try not to rush. The suggested time spent for brushing one's teeth is at least three minutes. If you don't really want to exceed three minutes, you can use a timer or play a song that lasts for three minutes.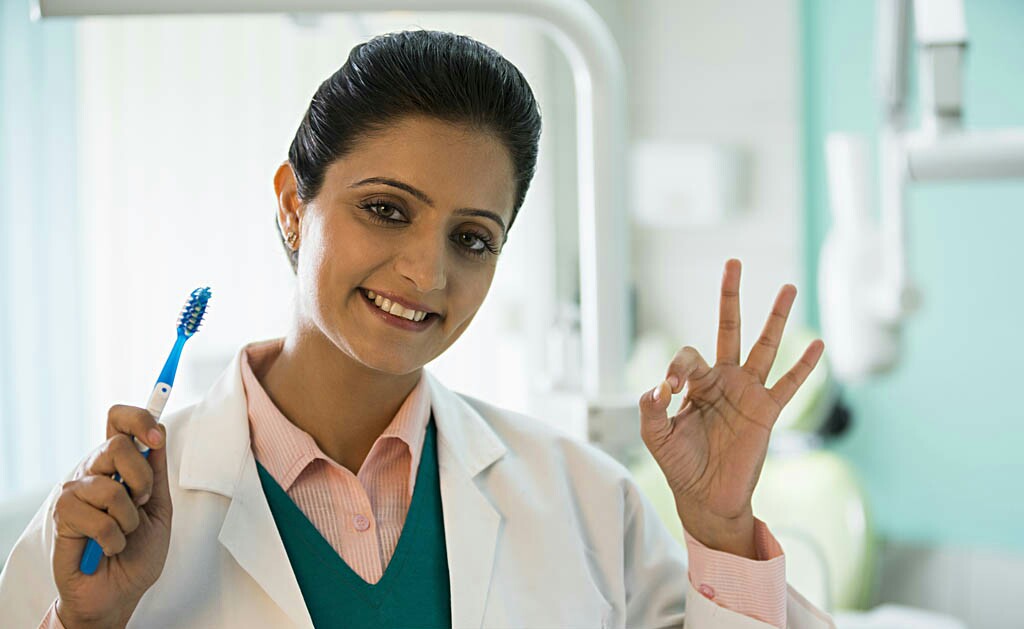 Choosing the right toothbrush would also make your brushing time more enjoyable. If you are not comfortable with your toothbrush anymore, there's no reason for you not to ditch it and buy a new one. If you have sensitive teeth and gums, a toothbrush with soft bristles would be perfect for you. However, if you have pretty strong teeth, you can use medium or hard bristles for you to clean your teeth better. It is also advised that you change your toothbrush every three months. If it's hard for you to keep track of the days and months, you can opt to buy a toothbrush that comes with a color indicator that would tell you that it's time to change your toothbrush.
Learn To Floss Your Teeth-As most dental care commercials would say, brushing alone is not enough to ensure that your mouth and teeth is 100% clean. True enough, you can't really guarantee that you will end up having extremely clean teeth by just brushing alone. If you want to take the cleanliness and freshness of your teeth and mouth to the net level, then you might want to learn how to floss your teeth. People who floss for the first time may find it a bit weird and difficult to do. However, with enough practice, flossing can become an easy job. Dental floss helps a lot in getting rid of food remnants stuck in your teeth where toothbrushes can't reach.
Visit Your Dentist-Now that you already know the basic steps in maintaining a healthy set of teeth, it doesn't mean that you can already skip visits to your dentist. It is still very important to visit your dentist at least twice a year because there are really some procedures (such as oral prophylaxis) that only dentists can do. Having your teeth cleaned professionally by a dentist is really a different and better experience than simple brushing and flossing. Enhance your personal dental care by integrating regular brushing and flossing and visiting the dentist at least twice a year.
More Than Just Brushing
Almost everyone has their own share of childhood tooth-y story. Parents have their own unique way of encouraging their children how to take care of their teeth - from exaggerated stories to imaginary characters (hello, tooth fairy). However, encouraging children to take care of their teeth is actually a good thing to do because it's a good idea to start practicing personal dental care at an early age. Perhaps the most basic thing that almost everyone knows about personal dental care is brushing.
Brushing one's teeth after every meal is considered as the most basic step for personal dental care. A lot of people may think that brushing one's teeth is just plain brushing; what most people don't know is that there is a proper way to brush one's teeth. Brushing one's teeth effectively does not involve freestyle strokes. If you are one of the many people who do not know the proper strokes of brushing, a visit to the dentist would be the solution to your problem.
Brush your teeth at least two times a day although there are some people who believe that it is necessary to brush one's teeth three times a day or after every meal, most dentists would recommend that teeth should be brushed at least two times a day. There are even cases when dentist would discourage their patients from brushing more than two times a day, especially for those people who are experiencing discomfort from sensitive teeth.
Some people can even afford to get through a day without actually brushing their teeth. If you are one of the many individuals who think that eating mentholated candies, gargling mouthwash, or flossing can equal to brushing, you might need to change your approach to your personal dental care routine. Eating candies to hide the scent of what you just ate during your latest meal is definitely not a good idea. Sure, it would be excusable if you just did it once or twice, or during an emergency, but if you are guilty of doing it regularly, you are actually doing more harm than good to your teeth. Eating candies and other sweets to compensate the lack of brushing may just infuse more cavities to your teeth. You may not see the harmful results of this horrible "dental care" right away, but in the long run, you will surely find yourself regretting why you let your teeth fall into the traps of candies and sweets.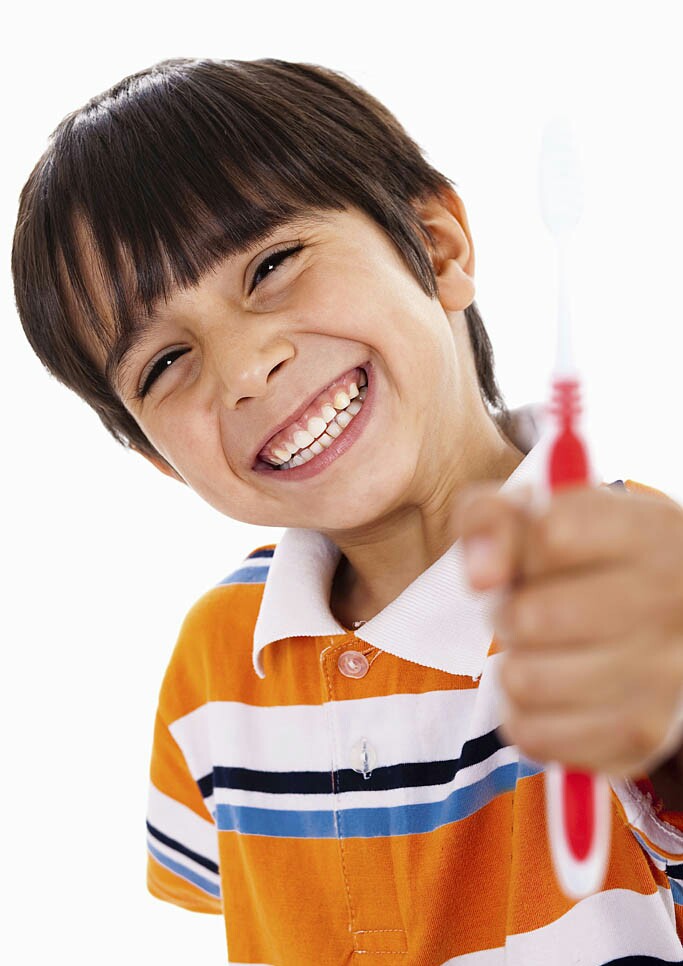 Substituting brushing with a simple mouthwash gargle session in the bathroom may seem to save you a lot of precious work time, but in reality, you are just putting your teeth (and mouth) in jeopardy. Mouthwashes are made to enhance the cleanliness of your teeth, not to substitute tooth brushing. Simply gargling with mouthwash won't thoroughly cleanse your mouth. Sure, your mouth may feel fresh and clean after you gargle with mouthwash, but if a microscope would be placed in your mouth (especially in between your teeth), you may just end up being disgusted with what you see. Achieving a healthy personal dental care routine is important because it will surely make or break your smile. Don't neglect your teeth because they make up an important part of your face.
Preventive dentistry
A preventive program is a cooperative effort by the patient, dentist, and dental staff to preserve the natural dentition and supporting structures by preventing the onset, progress, and recurrence of dental diseases and conditions.
Preventing dental disease starts at home with good oral hygiene and a balanced diet. It is continued in the dental office by the efforts of your dentist and dental hygienist to promote, restore, and maintain your oral health.
Prevention also includes regular dental exams, cleanings, and x-rays. Sealants and fluoride are also great preventive treatments that help protect the teeth.
Prevention helps avoid serious and costly dental problems and is the key to having a healthy, confident, beautiful smile.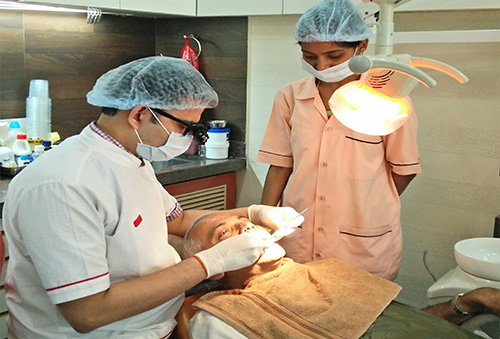 You First Then Dentist
Most people think that it's the dentist's job to take care of people's teeth. It's quite true but the fact is, it's the responsibility of every individual to take care of his teeth first before going to the dentist. Simple personal dental care such as brushing and flossing are enough to maintain the hygiene of the mouth and teeth. Dentists are only for treating and curing abnormalities and diseases of the mouth, as well as for giving regular oral prophylaxis at least twice a year.If you would just depend on your dentist for the hygiene of your mouth, you would surely be spending a lot of money. As they say, prevention is better than cure that's why you should be responsible enough to prevent cavities and other teeth and mouth-related diseases from existing in your mouth.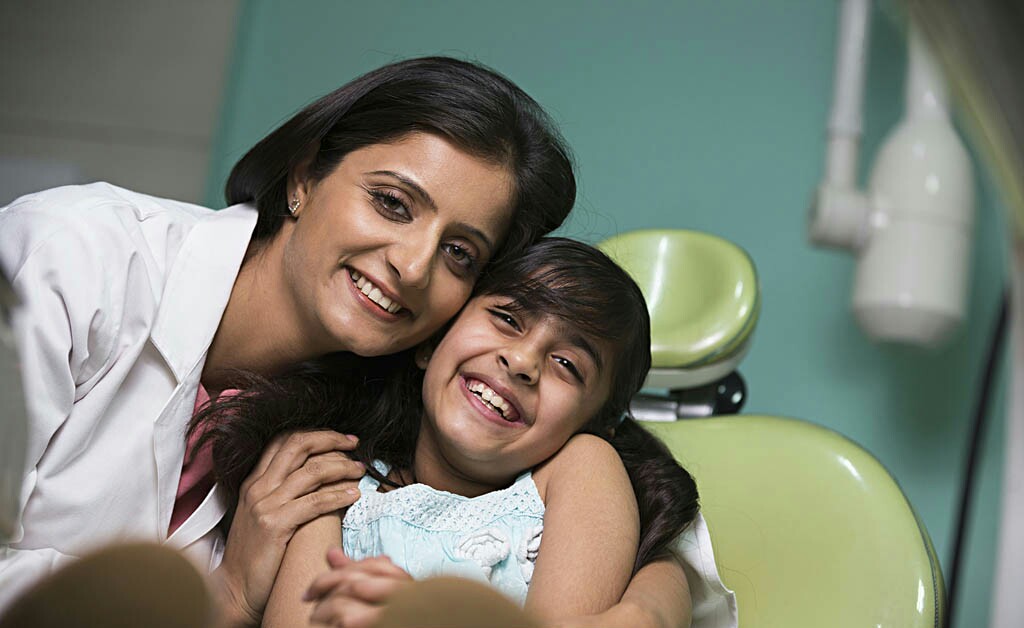 Many people dream of having Julia Roberts' million dollar smile. It's not actually difficult to achieve that kind of smile. As long as you maintain proper personal hygiene and regularly visit your dentist, it won't be long before you can achieve your very own movie star-like smile. However, if you are not blessed with straight and perfectly shaped teeth, do not lose hope! You can still achieve your very own million dollar smile - that is, if you can afford to spend some money to "repair" your teeth. Most movie stars who seem to have brilliant pearly whites didn't actually have those set of teeth naturally. About 80% of the celebrities in the movie industries have undergone teeth enhancing or teeth restructuring just so they could flash their perfect smiles on screen. Although having one's teeth look exactly like those seen on TV can be a little bit expensive, if you can afford it, then go ahead. However, these kind of processes and procedures still require healthy teeth as a base or foundation. Dentist wouldn't really go ahead with the procedure if they see that the original teeth are brittle or damaged.
Before enhancing one's teeth and making it look like a movie star's, dentists would still go back to the basics and repair the damaged or decayed set of the original teeth. A Fence For Your Teeth Kids and teenagers are usually the ones who are commonly seen with braces but there are also a great number of adults who can be seen wearing braces. Although wearing braces can be quite awkward and can make one feel as if his or her teeth has a fence around it, braces are actually very effective in aligning crooked teeth. People who have crooked teeth can still achieve their million dollar smile by having their teeth put in braces. The duration of the braces in one's teeth greatly depends on the severity of the crookedness of the teeth. When the braces are already taken off from the mouth, retainers have to be worn in replacement of the braces. Retainers need to be worn to reinforce the alignment of the teeth. To know more about personal dental care and other dental services that may be useful to you, a visit to your local dentist may just be what you need. Investing in your teeth is actually something that would boost your self-esteem and may even land you your dream job.